The 2021 Subaru Love Promise Customer and Community Commitment Award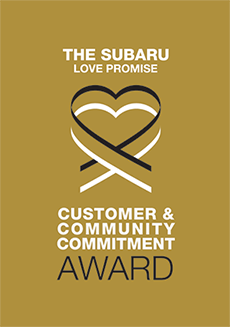 We've been nationally recognized for our dedication to our customers, our community, and the Subaru Love Promise.
We're honored to receive the 2021 Subaru Love Promise Customer and Community Commitment Award. This award nationally recognizes elite Subaru retailers who provide an exceptional customer experience at every interaction with Subaru. These retailers have also demonstrated an outstanding commitment to supporting passions and causes in their local communities in important areas such as the environment, community, health, education, and pets.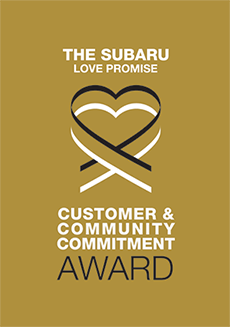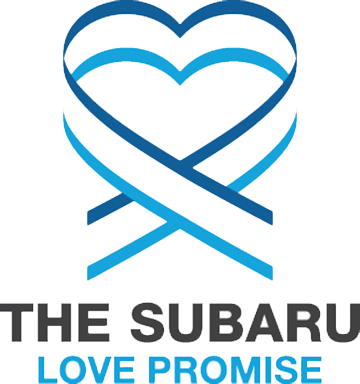 What is the Subaru Love Promise?
Subaru and our retailers believe in making the world a better place and the Subaru Love Promise is our vision of respecting all people. This is our commitment to show love and respect to our customers and to work to make a positive impact in the world.
How is Five Star Subaru dedicated locally to the Love Promise?
Our Love Promise can be seen in over 247 Charities, Service Organizations and Community Events where we partnered with local charities and non-profits in 2015 and 2016. We're grateful for the opportunity, not only to be a part of our community, but to serve it as well. SamPackCares.com is about our community where we strive to find different ways to support those who need help, when they need it. Our employees are driven to make a difference because we Care!
Operation Kindness, National FFA Foundation
Driving Dreams Scholarship Fund
Kidd's Kids, Community Food Bank
Holy Angels Residential, Alzheimer's Association
Love Promise Stories from Five Star Subaru
Subaru and Five Star Subaru believe in making a positive impact on the communities in which we live and work. We uphold that belief through our Love Promise Community Commitment. Every month, we select inspiring stories from customers and partners from around our area who strive to support our collective commitment and feature them here
Down & Derby For School Supplies - Jessica M
In honor of Subaru Loves Learning, Sam Pack's Five Star Subaru Grapevine partnered once again with our loyal friends at Kraken Motorsports bringing the community together to host another successful family friendly car meet for a cause. On August 14th, the theme for our 2nd Saturday of the month's car meet was 'Down and Derby for School Supplies'. Our amazing community, JDM import car friends, and Subaru Boxer Squad family all came out to bring school supplies and other items needed for classroom success and safety. These items benefit Five Star Subaru Grapevine's AdoptAClassroom.org partner school, Uplift Grand Preparatory and two of our local area school districts, GCISD and Keller ISD. We were also honored to have our local Boy Scouts of America set up a derby car race track to highlight the evening with exciting derby races which helped support fundraising efforts at their local Longhorn Council. Over the course of the COVID-19 pandemic, countless teachers, staff, faculty, administrators, and institutional leaders, along with students' families, have gone above and beyond to support our students at all educational levels. "Our team at Five Star Subaru Grapevine and the community are committed to helping ensure the education of our children. We also want to be sure that we are doing everything we possibly can to help minimize the stress on our teachers, parents, and students having to navigate through the uncertainty of each day in order to stay safe, keep up with learning, and looking after their mental health. This is our way of helping bring relief to those going back to school during another unsure school year while so many are still being affected by the COVID-19 pandemic and newest wave of variants." Said Jessica Maranchello, Community Relations Manager at Five Star Subaru Grapevine. Sam Pack's Five Star Subaru of Grapevine would like to thank everyone who came out to support our ongoing car meet series always benefitting a worthy cause in the communities where we live. What a rewarding satisfaction it was to have been able to stuff a Subaru full of school supplies for us to deliver before the start of the 2021-2022 school year. Each of the schools were extremely grateful for the supplies, back packs, and other donation items disbursed to them before their first day back to school. They also wished to thank all of us in the community and Subaru for the ongoing support that we continue to provide them throughout the year.
---
Just Bee-Cause Car Meet - Jessica M
On April 10th, 2021 our team at Five Star Subaru Grapevine continued our partnership with friends in the community hosting our second ongoing Saturday car meet for a cause series. These car meets benefit a local non-profit organization doing amazing work in the community. This month we went GREEN in support of Subaru Loves the Earth. Our incredible community again rose to the challenge by helping raise $655 in Donations for Keep Grapevine Beautiful. In support of the cause, Sam Pack's Five Star Subaru matched the donations raising the total amount to $1,310. The proceeds collected help purchase wildflower seeds, plants, and supplies needed for their beautification projects throughout the year. With the goal of bringing awareness to our neighbors about pollinators such as butterflies and bees who are responsible for one out of every three bites of food we eat, our collaborated efforts did just that. Planting wildflower seed in our local habitat restoration areas and green spaces is especially important this year after the devastating ice storm in February that shocked many plants, trees, & flowers in our area. "Despite the impact that the week of harsh bitter cold winter weather had, one thing that we can say for sure is that mother nature is one of the biggest teachers of resiliency. Even in the wake of the ice storm it amazes me to see the beauty in the aftermath. Blooming bluebonnets covered in ice, flowers, and other plants in central Texas continue to break through the soil to grace us with their glorious presence. Showing us that despite the conditions, they can make it through the storm. This visual has such a deeper meaning for many of us during these difficult times we find ourselves in with this pandemic and moments like these to be able to come together for a bigger cause is very powerful." said Jessica Maranchello Community Relations Manager. Kathy Nelson wrote, "On behalf of the Keep Grapevine Beautiful Board, please accept our sincere thanks for allowing us to participate in Five Star Subaru's Just Bee-Cause Car Meet on April 10. The event was well-run and a great opportunity to learn more about the generous community of Subaru enthusiasts. Your donation of over $1300 will be used for planting wildflower seed and plantings in habitat restoration areas and green spaces within Grapevine. Our organization exists to motivate people to engage in impactful ways that will preserve and enhance the local natural environment. We appreciate Subaru supporting these efforts here, and around the globe. Keep Grapevine Beautiful looks forward to continuing our rich partnership in the years to come." Sincere thanks to our wonderful Subaru family, friends, and this month's sponsor Boxed Water for your unwavering support during our car meet for a cause. Rob Koenen, CRO at Boxed Water is Better commented "Boxed Water is committed to building community and helping the planet. Subaru Grapevine's idea of assembling the Subaru community to help the planet inspired us to help and we also were able to layer on reforestation efforts with the National Forest Foundation. We've been supplying Subaru retailers who've ditched the plastic for years, but when Subaru Grapevine approached us with this idea, we had to support it." Next time you are out for a drive and see beautiful wildflowers, green landscapes, and the bumblebees or monarch butterflies dancing amongst them, smile because you had a hand in that.
---
Subaru Garage Transforms into Bingo Palace - Mark W
GRACE'S inaugural Designer Bags & Bingo event was sold out with over 440 people laughing, snacking and daubing their way through one of most fun events we've had in years. All the money raised supports the incredible Transitional Housing Program with much needed funds. GRACE Transitional Housing is a 24-month program for homeless or near-homeless families. The competition was fierce as 10 lucky winners went home with exclusive designer bags! Many players received wonderful door prizes and all received terrific swag bags. We had out-right winners on most games. but we also had a couple ties that had to be decided by drawing cards. One draw came down to a dramatic King vs Ace pull for the win! Our host sponsor Sam Pack's Five Star Subaru of Grapevine made it all possible!! Along with help from our multi-media wizards at Alford Media Services, we were able to turn Five Star Subaru's state-of-the-art service garage/maintenance bay into an ultra-unique swankified Bingo Palace! Thanks to Tony Hooman and everyone else at Sam Pack's Five Star Subaru of Grapevine for helping make Designer Bags & Bingo a unique experience and a great success! The money raised far exceeded our hopes and we can't thank Five Star Subaru enough for helping us change the direction and purpose of those in the Transitional Housing program.
---
Subaru Shares The Love with GRACE - Mark W
GRACE is honored and humbled to be the recipient of this year's Subaru Share the Love event. The GRACE family joined the Sam Pack's Five Star Subaru of Grapevine family for a parade celebrating this momentous occasion where we were presented with a check for $56,193! The money raised will go straight back to our community through programs like our Community Clinic, Food Pantry, and Transitional Housing program. Tony Pack, owner of the Sam Pack Automotive Group, addressed the crowd for this wonderful occasion. "GRACE is a big part of our family. It's a privilege to be a part of this organization and the life changing work they do for our community." Over the last 13 years, through the Subaru Share the Love Event, Subaru of America Inc. and its participating retailers have donated more than $200 million to charity, with customers choosing between four national and over 1,440 hometown charities. GRACE CEO Shonda Schaefer thanked everyone involved with this project while accepting the check. "This is such an incredible honor," said Shonda. "Thank you so much to everyone at Subaru and here at the dealership that helped make this generous donation possible." The GRACE family would like to thank Subaru National, Tony Pack, and everyone at Sam Pack's Five-Star Subaru of Grapevine including General Manager Tony Hooman and Jessica Maranchello with Customer Relations for their hard work, dedication, and commitment to our mission.
---
Turbos for Tarrant Area Food Bank - Jessica M
After the Texas freeze in February and seeing the devastating impact it had in our local communities, our team at Sam Pack's Five Star Subaru Grapevine knew that we needed to think of unique fun ways to make a collective difference in bringing people together to help in times of need. After some brainstorming, we partnered with our friends at Kraken Motorsports to come up with a monthly car meet for a cause series taking place on the 2nd Saturday of every month. Adding in our Subaru Love Promise mission to give back and help our community, selecting a local non-profit organization doing amazing work in the community to benefit at our car meet each month became the perfect plan. The first in the series took place on Saturday, March 13th from 7 to 9 pm. It was hosted at Five Star Subaru Grapevine which provided a great space for fellow JDM car lovers in the community to come together to showcase their vehicles. It also continued to help Feed America by collecting donations for our local Tarrant Area Food Bank. Texas families not only struggled with freezing temperatures during the storm, but getting basic grocery items had also been a big challenge to many. Some grocery stores were out of stock of essentials or closed due to power outages for several days. Community Relations Manager, Jessica Maranchello recognized this need in the community. In addition to making grocery store runs in her All Wheel Drive Subaru Forester to help pickup groceries for her neighbors, she reached out to the wonderful people over at Tarrant Area Food Bank to offer assistance in helping collect food items for those in need. By bringing the Subaru community together during Turbos for Tarrant Area Food Bank Car Meet for a cause, we were blown away by the amount of support. Individuals came out in droves with stuffed trunks of food donations. The dealership was packed with lots of compassionate guests coming to enjoy fellowship, great music, delicious food, & really cool cars. After a successful car meet, Jessica Maranchello with 3 of her co-workers Shantai Isom, Nicholas Eyster, & Frankie Saif were beyond thrilled to transport a Subaru Ascent filled with over 800 lbs of canned goods and non-perishable food items collected at the car meet to the Tarrant Area Food Bank. Jim McPhearson along with his team graciously met them to receive the donations and take them for a very informational tour of the Tarrant Area Food Bank facility and services. In an effort to provide families with some relief, the Tarrant Area Food Bank with the help of the National Guard resumed its food distribution right when it was needed the most. Alicia and Sean Rizzo from Kraken Motorsports stated, "I just wanted to take a moment to thank the entire team at Five Star Subaru for providing such an amazing venue for our monthly car meet. The level of support you offer to the car community paves the way for people to come together in a safe and fun way for a great cause. As a small business, it is important to us to not only have a great place for our community to meet but also that we do something positive for the community. It is always so humbling to have the opportunity to partner with a larger company, such as Five Star Subaru Grapevine who shares the same values. We had such an amazing time and were just astounded to see our members bring over 800 food items to the car meet to benefit the Tarrant Area Food Bank!! Thank you for your continued support and for being such an awesome company, built with amazing people!"
---
Trykes For Tykes - Jessica M
On a sunny December Saturday morning, Five Star Subaru of Grapevine and their team watched as six mobility challenged children received trykes. The trykes are engineered by Grapevine AMBUCS alongside physical therapists giving the gift of mobility and independence. The tryke fits the child's needs and gives them the ability to ride a bike by improving physical, mobility, and social skills. We want to give a big thank you for Five Star Subaru's support and the way you give back to our community. You made this a very special day for us as we all watched the kids riding around your parking lot with big smiles on their faces.
---
Donation for Grace of Grapevine - Dee B
Transportation is a huge challenge for many GRACE clients. With little public transportation within north Tarrant County, getting to and from work, school, grocers, clinics, and all other destinations is a constant concern. The kind folks at Sam Pack's Five Star Subaru of Grapevine know how important reliable transportation is. Recently the dealership worked with a customer to turn her trade-in into a donation to GRACE. Sandi Clark stepped onto the Five Star Subaru lot intent on getting new Subaru. When the conversation turned to the trade-in value of her older model car, Sandi saw the chance to help another person in a much more valuable way. Instead of using her car as a trade-in, Sandi asked the Subaru salesman, Calum Allen, if she could donate it to GRACE instead. Calum and Dee Boyett, Five Star Subaru Public Relations Specialist, immediately contacted GRACE.GRACE was recently selected by Subaru as its 2020 "Share the Love" charity—the third year in a row GRACE has been honored in this way. Each year, GRACE and the Subaru leadership and sales team get together to talk about those who come to GRACE for help. The "Share the Love" campaign runs early-November through the first few days of the new year, and Subaru donates $250 to GRACE for every car sold during that time. In total, Five Star Subaru has donated nearly $130,000 to support GRACE services and programs. Naturally, when the opportunity came to help GRACE with the car donation, Calum, Dee, and dealership manager Tony Hooman jumped at the chance. Our thanks to Sandi, for her selfless generosity, and to the folks at Sam Pack's Five Star Subaru for keeping GRACE in their thoughts.
---
Subaru Sponsors Duck Race 3 years in a row!! - Dee B
Five Star Subaru is the proud sponsor of the 3rd annual duck race held at Grapevine Parks and Rec. For the past three years, we have been the lead sponsor where proceeds go to help Grapevine and Colleyville High School students with scholarships to help students get computers that normally would not be able to afford one. Especially during COVID is this ever so important for students to have a computer. Students write into GCISD and complete a short essay as to why they can not afford a computer. The Grapevine Rotary gets the essays and with the funds received from the duck race are able to help each and every one of these students receive a computer so they can attend school virtually. Community Relations Manager Dee Boyett aligned with Grapevine Rotary club 3 years ago and is an active member to make sure that all students that need computers will receive one its a main core value of Subaru Loves to Learn. During the pandemic, there have been many teachers who will be asking students how they feel, as a way to gauge the well-being of students during this time. Students that have to worry about food, shelter, clothing, and not being able to have a computer for school have so much more added stress. When they can interact with their peers and teachers they feel a sense of belonging and a feeling of contributing to society through learning. The more students learn the more secure they become and gain a thorough understanding and a sense of well-being which helps to diminish stress levels. Receiving a computer is not only a wonderful gift as it can be life-changing for these students.
---
Heard it through the Grapevine - Dee B
Several months ago Subaru of Grapevine was asked to sponsor the Grants program for the City of Grapevine. Subaru feels it is our personal responsibility to protect Earth's natural wonders and encourage our retailers and customers to engage in smart environmental practices. Five Star Subaru aligned with the City of Grapevine to give two different grants away, one for beautification and the other for recycling.There was a meeting held at Five Star Subaru where participants were asked to present their safe and helpful environmental practices for a better future. Sam Pack's Five Star Subaru Community Relations Manager along with the City of Grapevine listened carefully to all those who entered the grant programs. Two different groups were awarded grants. Grapevine Faith High school implemented two water stations to help with recycling. Cross Timbers elementary school is going to beautify their front entrance. During the visit to our dealership, the City of Grapevine learned about our Subaru Loves the earth program with Terracycle. Dee Boyett, Community Relations Manager, and Cindy Harris from City of Grapevine had a meeting and Cindy was introduced to Kyle Riggs from Terracycle. Kyle mentioned how through their partnership with Subaru, "we have diverted more than 4.200,00 pieces of waste from landfills, he also said," by transforming collected waste we are able to make recycled benches, picnic tables, and outdoor furniture."On July 22nd, 2020 Cindy invited Subaru of Grapevine to host a meeting with the City of Dallas, City of Fort Worth, and City of Irving. The meeting was to share with our sister cities how Terracycle can improve their communities too. Subaru of America Ryan Streeter and Kyle Riggs from Terracycle showed a power-point presentation. There were many questions and great feedback. In the end, all cities are aligning with Terracycle and Subaru to make a difference in our world. One small act of kindness to help our community turned out to help many others in a cause that puts waste to good use in our community.
---
Feed our Kids - Dee B
Today June 19,2020 we at Five Star Subaru showed up with 200 box lunches and and a shave ice cream truck to feed kids that may not have a meal this summer. It is part of Subaru's commitment to our community here in the Grapevine area. With a crossing guard and Subaru team members we enjoyed laughter and smiles galore as each child one by one stepped up to get their sandwich, chip, and juice drink box lunch. But, that was not all we at Five Star Subaru knew it would be a very special touch to have a Tiki Island shave ice cream truck come too. Loaded with reggae music and all kinds of choices kids lined up to receive their ice cream to cool down after their delicious lunch.Community Relations Manager Dee Boyett with two of her co-workers, Casey Pierce and Rutger Kesling enjoyed bringing love to each of these children today. Subaru loves to help, just one part of the Subaru love promise, its one more reason why Subaru is more than a car company.
---