The 2021 Subaru Love Promise Customer and Community Commitment Award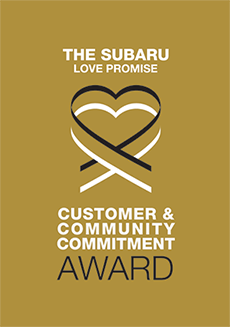 We've been nationally recognized for our dedication to our customers, our community, and the Subaru Love Promise.
We're honored to receive the 2021 Subaru Love Promise Customer and Community Commitment Award. This award nationally recognizes elite Subaru retailers who provide an exceptional customer experience at every interaction with Subaru. These retailers have also demonstrated an outstanding commitment to supporting passions and causes in their local communities in important areas such as the environment, community, health, education, and pets.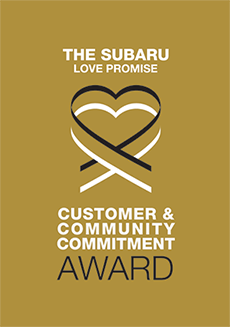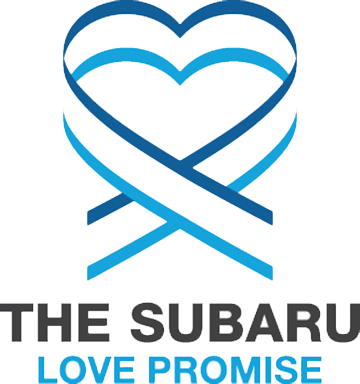 What is the Subaru Love Promise?
Subaru and our retailers believe in making the world a better place and the Subaru Love Promise is our vision of respecting all people. This is our commitment to show love and respect to our customers and to work to make a positive impact in the world.
How is Five Star Subaru dedicated locally to the Love Promise?
Our Love Promise can be seen in over 247 Charities, Service Organizations and Community Events where we partnered with local charities and non-profits in 2015 and 2016. We're grateful for the opportunity, not only to be a part of our community, but to serve it as well. SamPackCares.com is about our community where we strive to find different ways to support those who need help, when they need it. Our employees are driven to make a difference because we Care!
Operation Kindness, National FFA Foundation
Driving Dreams Scholarship Fund
Kidd's Kids, Community Food Bank
Holy Angels Residential, Alzheimer's Association
Love Promise Stories from Five Star Subaru
Subaru and Five Star Subaru believe in making a positive impact on the communities in which we live and work. We uphold that belief through our Love Promise Community Commitment. Every month, we select inspiring stories from customers and partners from around our area who strive to support our collective commitment and feature them here
Subaru Garage Transforms into Bingo Palace - Mark W
GRACE'S inaugural Designer Bags & Bingo event was sold out with over 440 people laughing, snacking and daubing their way through one of most fun events we've had in years. All the money raised supports the incredible Transitional Housing Program with much needed funds. GRACE Transitional Housing is a 24-month program for homeless or near-homeless families. The competition was fierce as 10 lucky winners went home with exclusive designer bags! Many players received wonderful door prizes and all received terrific swag bags. We had out-right winners on most games. but we also had a couple ties that had to be decided by drawing cards. One draw came down to a dramatic King vs Ace pull for the win! Our host sponsor Sam Pack's Five Star Subaru of Grapevine made it all possible!! Along with help from our multi-media wizards at Alford Media Services, we were able to turn Five Star Subaru's state-of-the-art service garage/maintenance bay into an ultra-unique swankified Bingo Palace! Thanks to Tony Hooman and everyone else at Sam Pack's Five Star Subaru of Grapevine for helping make Designer Bags & Bingo a unique experience and a great success! The money raised far exceeded our hopes and we can't thank Five Star Subaru enough for helping us change the direction and purpose of those in the Transitional Housing program.
---
Subaru Shares The Love with GRACE - Mark W
GRACE is honored and humbled to be the recipient of this year's Subaru Share the Love event. The GRACE family joined the Sam Pack's Five Star Subaru of Grapevine family for a parade celebrating this momentous occasion where we were presented with a check for $56,193! The money raised will go straight back to our community through programs like our Community Clinic, Food Pantry, and Transitional Housing program. Tony Pack, owner of the Sam Pack Automotive Group, addressed the crowd for this wonderful occasion. "GRACE is a big part of our family. It's a privilege to be a part of this organization and the life changing work they do for our community." Over the last 13 years, through the Subaru Share the Love Event, Subaru of America Inc. and its participating retailers have donated more than $200 million to charity, with customers choosing between four national and over 1,440 hometown charities. GRACE CEO Shonda Schaefer thanked everyone involved with this project while accepting the check. "This is such an incredible honor," said Shonda. "Thank you so much to everyone at Subaru and here at the dealership that helped make this generous donation possible." The GRACE family would like to thank Subaru National, Tony Pack, and everyone at Sam Pack's Five-Star Subaru of Grapevine including General Manager Tony Hooman and Jessica Maranchello with Customer Relations for their hard work, dedication, and commitment to our mission.
---
Turbos for Tarrant Area Food Bank - Jessica M
After the Texas freeze in February and seeing the devastating impact it had in our local communities, our team at Sam Pack's Five Star Subaru Grapevine knew that we needed to think of unique fun ways to make a collective difference in bringing people together to help in times of need. After some brainstorming, we partnered with our friends at Kraken Motorsports to come up with a monthly car meet for a cause series taking place on the 2nd Saturday of every month. Adding in our Subaru Love Promise mission to give back and help our community, selecting a local non-profit organization doing amazing work in the community to benefit at our car meet each month became the perfect plan. The first in the series took place on Saturday, March 13th from 7 to 9 pm. It was hosted at Five Star Subaru Grapevine which provided a great space for fellow JDM car lovers in the community to come together to showcase their vehicles. It also continued to help Feed America by collecting donations for our local Tarrant Area Food Bank. Texas families not only struggled with freezing temperatures during the storm, but getting basic grocery items had also been a big challenge to many. Some grocery stores were out of stock of essentials or closed due to power outages for several days. Community Relations Manager, Jessica Maranchello recognized this need in the community. In addition to making grocery store runs in her All Wheel Drive Subaru Forester to help pickup groceries for her neighbors, she reached out to the wonderful people over at Tarrant Area Food Bank to offer assistance in helping collect food items for those in need. By bringing the Subaru community together during Turbos for Tarrant Area Food Bank Car Meet for a cause, we were blown away by the amount of support. Individuals came out in droves with stuffed trunks of food donations. The dealership was packed with lots of compassionate guests coming to enjoy fellowship, great music, delicious food, & really cool cars. After a successful car meet, Jessica Maranchello with 3 of her co-workers Shantai Isom, Nicholas Eyster, & Frankie Saif were beyond thrilled to transport a Subaru Ascent filled with over 800 lbs of canned goods and non-perishable food items collected at the car meet to the Tarrant Area Food Bank. Jim McPhearson along with his team graciously met them to receive the donations and take them for a very informational tour of the Tarrant Area Food Bank facility and services. In an effort to provide families with some relief, the Tarrant Area Food Bank with the help of the National Guard resumed its food distribution right when it was needed the most. Alicia and Sean Rizzo from Kraken Motorsports stated, "I just wanted to take a moment to thank the entire team at Five Star Subaru for providing such an amazing venue for our monthly car meet. The level of support you offer to the car community paves the way for people to come together in a safe and fun way for a great cause. As a small business, it is important to us to not only have a great place for our community to meet but also that we do something positive for the community. It is always so humbling to have the opportunity to partner with a larger company, such as Five Star Subaru Grapevine who shares the same values. We had such an amazing time and were just astounded to see our members bring over 800 food items to the car meet to benefit the Tarrant Area Food Bank!! Thank you for your continued support and for being such an awesome company, built with amazing people!"
---
Trykes For Tykes - Jessica M
On a sunny December Saturday morning, Five Star Subaru of Grapevine and their team watched as six mobility challenged children received trykes. The trykes are engineered by Grapevine AMBUCS alongside physical therapists giving the gift of mobility and independence. The tryke fits the child's needs and gives them the ability to ride a bike by improving physical, mobility, and social skills. We want to give a big thank you for Five Star Subaru's support and the way you give back to our community. You made this a very special day for us as we all watched the kids riding around your parking lot with big smiles on their faces.
---
Donation for Grace of Grapevine - Dee B
Transportation is a huge challenge for many GRACE clients. With little public transportation within north Tarrant County, getting to and from work, school, grocers, clinics, and all other destinations is a constant concern. The kind folks at Sam Pack's Five Star Subaru of Grapevine know how important reliable transportation is. Recently the dealership worked with a customer to turn her trade-in into a donation to GRACE. Sandi Clark stepped onto the Five Star Subaru lot intent on getting new Subaru. When the conversation turned to the trade-in value of her older model car, Sandi saw the chance to help another person in a much more valuable way. Instead of using her car as a trade-in, Sandi asked the Subaru salesman, Calum Allen, if she could donate it to GRACE instead. Calum and Dee Boyett, Five Star Subaru Public Relations Specialist, immediately contacted GRACE.GRACE was recently selected by Subaru as its 2020 "Share the Love" charity—the third year in a row GRACE has been honored in this way. Each year, GRACE and the Subaru leadership and sales team get together to talk about those who come to GRACE for help. The "Share the Love" campaign runs early-November through the first few days of the new year, and Subaru donates $250 to GRACE for every car sold during that time. In total, Five Star Subaru has donated nearly $130,000 to support GRACE services and programs. Naturally, when the opportunity came to help GRACE with the car donation, Calum, Dee, and dealership manager Tony Hooman jumped at the chance. Our thanks to Sandi, for her selfless generosity, and to the folks at Sam Pack's Five Star Subaru for keeping GRACE in their thoughts.
---
Subaru Sponsors Duck Race 3 years in a row!! - Dee B
Five Star Subaru is the proud sponsor of the 3rd annual duck race held at Grapevine Parks and Rec. For the past three years, we have been the lead sponsor where proceeds go to help Grapevine and Colleyville High School students with scholarships to help students get computers that normally would not be able to afford one. Especially during COVID is this ever so important for students to have a computer. Students write into GCISD and complete a short essay as to why they can not afford a computer. The Grapevine Rotary gets the essays and with the funds received from the duck race are able to help each and every one of these students receive a computer so they can attend school virtually. Community Relations Manager Dee Boyett aligned with Grapevine Rotary club 3 years ago and is an active member to make sure that all students that need computers will receive one its a main core value of Subaru Loves to Learn. During the pandemic, there have been many teachers who will be asking students how they feel, as a way to gauge the well-being of students during this time. Students that have to worry about food, shelter, clothing, and not being able to have a computer for school have so much more added stress. When they can interact with their peers and teachers they feel a sense of belonging and a feeling of contributing to society through learning. The more students learn the more secure they become and gain a thorough understanding and a sense of well-being which helps to diminish stress levels. Receiving a computer is not only a wonderful gift as it can be life-changing for these students.
---
Heard it through the Grapevine - Dee B
Several months ago Subaru of Grapevine was asked to sponsor the Grants program for the City of Grapevine. Subaru feels it is our personal responsibility to protect Earth's natural wonders and encourage our retailers and customers to engage in smart environmental practices. Five Star Subaru aligned with the City of Grapevine to give two different grants away, one for beautification and the other for recycling.There was a meeting held at Five Star Subaru where participants were asked to present their safe and helpful environmental practices for a better future. Sam Pack's Five Star Subaru Community Relations Manager along with the City of Grapevine listened carefully to all those who entered the grant programs. Two different groups were awarded grants. Grapevine Faith High school implemented two water stations to help with recycling. Cross Timbers elementary school is going to beautify their front entrance. During the visit to our dealership, the City of Grapevine learned about our Subaru Loves the earth program with Terracycle. Dee Boyett, Community Relations Manager, and Cindy Harris from City of Grapevine had a meeting and Cindy was introduced to Kyle Riggs from Terracycle. Kyle mentioned how through their partnership with Subaru, "we have diverted more than 4.200,00 pieces of waste from landfills, he also said," by transforming collected waste we are able to make recycled benches, picnic tables, and outdoor furniture."On July 22nd, 2020 Cindy invited Subaru of Grapevine to host a meeting with the City of Dallas, City of Fort Worth, and City of Irving. The meeting was to share with our sister cities how Terracycle can improve their communities too. Subaru of America Ryan Streeter and Kyle Riggs from Terracycle showed a power-point presentation. There were many questions and great feedback. In the end, all cities are aligning with Terracycle and Subaru to make a difference in our world. One small act of kindness to help our community turned out to help many others in a cause that puts waste to good use in our community.
---
Feed our Kids - Dee B
Today June 19,2020 we at Five Star Subaru showed up with 200 box lunches and and a shave ice cream truck to feed kids that may not have a meal this summer. It is part of Subaru's commitment to our community here in the Grapevine area. With a crossing guard and Subaru team members we enjoyed laughter and smiles galore as each child one by one stepped up to get their sandwich, chip, and juice drink box lunch. But, that was not all we at Five Star Subaru knew it would be a very special touch to have a Tiki Island shave ice cream truck come too. Loaded with reggae music and all kinds of choices kids lined up to receive their ice cream to cool down after their delicious lunch.Community Relations Manager Dee Boyett with two of her co-workers, Casey Pierce and Rutger Kesling enjoyed bringing love to each of these children today. Subaru loves to help, just one part of the Subaru love promise, its one more reason why Subaru is more than a car company.
---
Covid-19 Strong - Five Star Subaru F
Being a part of a community starts in your backyard and we at Five Star Subaru belong to Grapevine Rotary Club where the motto is "Service above Self!" During the past few weeks we at Sam Pack's Five Star Subaru aligned with Grapevine Rotary to make sure Grapevine Fire Department received 1,000 N95 face masks to serve the Grapevine Community. Chief Darrell Brown was so thrilled that through our connections we were able to find masks and have them made quickly so they could have them within a matter of hours. But, that is not all, our Customer Relations Manager at Five Star Subaru Dee Boyett is on a volunteer club that helps people in the Grapevine area by calling people to make sure they have what they need groceries, running errands, walking dog etc. More importantly, help with needs that might be hard to come by like the Police Chief who needed thermometers to check his staff for the virus. By doing the calling list we found out the Chief of police Mike Hamlin and his crew needed thermometers within a few hours we connected the Deputy Superintendent Brad Schnautz with the Chief of Police and they had 11 thermometers at their station that very same day. Through the connections and partnering Sam Pack Five Star Subaru with Grapevine Rotary we were able to not only help our district but other school districts as soon as they heard of this news are helping their local police stations too!! Next week Dee Boyett with two of her co-members from Grapevine Rotary Jan Ramsey and Darlene Freed will meet to sew and make more masks for the police department and fire department and for the dealership and the Rotary club alike. This is what it means when you become more about community, when we go out of our way to build lifelong relationships, "Subaru's Love Promise, we do this because we feel it is the right thing to do!"
---
Subaru Loves the Earth - Dee B
Keep Grapevine Beautiful is pleased to announce that Sam Pack's Five Star Subaru Grapevine will be sponsoring our Community Grants Program. Each year we provide up to $3,000 to schools or organizations for projects that focus on improving the community in one of the following areas: litter prevention, waste reduction and beautification. "Subaru loves the Earth and we at Five Star Subaru are very dedicated to helping the beautification of Grapevine, Texas," says Dee Boyett, Community Relations Specialist of Five Star Subaru. Keep Grapevine Beautiful is excited to collaborate with Sam Pack's Five Star Subaru-Grapevine on this wonderful opportunity for the community. One of this years winners picked by Grapevine Parks and Rec's and Dee Boyett from Five Star Subaru is Grapevine Faith High School. The representative from Grapevine Faith High School, Mallory Greer gave a presentation that we were very interested in supporting.She had some great facts on just how much waste would be eliminated by installing a refillable water station. Teachers, students, and athletic departments both home and visiting would benefit.The opportunity for Subaru to align with recycle, reuse, and re-purpose came alive at their high school and we installed not one but two water stations!!!The most impressive fact we learned from Mallory Greer was, "With one refillable water station we have saved in one year over 400,000 water bottles from making to the landfill."Pictured above are the two water stations as you can see we are all thrilled to be a part of making a difference to help save the earth!!!!
---
Subaru Loves to Learn - Dee B
Sam Pack Subaru of Grapevine has championed with the Longhorn Council, Boy Scouts of America, LLC for the past 3 years by donating college scholarships for Eagle Scouts. The Eagle Scouts had to earn the highest level of achievement or rank attainable in the Scouts BSA program while being a member of the Longhorn Council and submit a video explaining, "How Scouting impacted your life as well as your community?" Scholarships have been presented during the "Legacy Breakfast" fundraising event held at the Marq in Southlake and chaired by Sanjay Chandra, CFA, Trinity Private Equity Group. This community outreach fundraiser brought the Cities of Colleyville, Grapevine, Southlake and the towns of Trophy Club and Westlake together to support their local Scouting program. With 2019 being the 100th anniversary of the Longhorn Council we opened the scholarship opportunity to Eagle Scouts in the 23 Counties served by the Council. The Council Camporee was held at the Texas Motor Speedway 11/10/19 where Scouts and their families were able to spend a day experiencing Scouting skills and STEM activities followed by an evening of entertainment and achievement awards. Sam Pack Subaru of Grapevine awarded the two winning Scout scholarships during the evening celebration. We thank Sam Pack Subaru for their generosity in supporting Scouting and helping two Eagle Scouts each year through their scholarship program, to further themselves by attending college. Yours in Scouting, Dietz L. Froehlich | Development Director
---
Subaru Loves Pets - Dee B
On behalf of all of the dogs and cats at Operation Kindness, thank you, Subaru of Grapevine, for being our heroes! Thanks to your generous donation of $10,000,homeless animals in North Texas will receive life-saving medical care, love and attention during their stay with us and and find their forever homes! Your gift provides much needed medicine and vaccinations, surgeries, food,toys, warm blankets and beds-making their time at Operation Kindness safe and fun! We could not do it without your kindness. Operation Kindness is the leading no-kill animal shelter in North Texas. Since our founding in 1976,Operation Kindness has saved more than 107,000 homeless animals.We take pride in our ability to treat and rehabilitate the dogs and cats in our care and give them the opportunity to experience a great quality of life. Operation Kindness serves as a partner for 40 municipal shelters and rescue groups who have animals in need of lifesaving medical care, or are simply low on space. Again, without generous people like Five Star Subaru we could not help all the animals that we can!!! Many thanks, Amy Udell Grants Manager Operation Kindness
---
Subaru Loves Science - Dee B
On October 1st the wonderful group at Five Star Subaru showed up with so many colorful, informative, and exciting Science books. Some of the students remembered them from coming for the past two years as well. The children that received the best scores and best manners that week were selected to hand out the books. The excitement filled the air with children engaged in learning and reading these delightful science books. We can not thank you enough Subaru for allowing Uplift Grand Preparatory School to be the recipients of such a treasure-able gift. You have allowed us to add to our library and we can not wait to see you again next year!!! Sincerely, Christian Martinez-Canchola PYP Dean | Uplift Grand Primary
---
Subaru Loves to Help - Dee B
Mr. Sam and Tony Pack of Five Star Subaru donated to our local charity Grace of Grapevine for their Gala event on October 26th,2019. The GRACE Gala is the single, largest fundraiser of the year for GRACE. Revenue from the event supports all GRACE services including the Food Pantry, Transitional Housing, Community Clinic, Clothing Room, Emergency Services, and the seasonal programs for children like Feed Our Kids, Christmas Cottage, and Back-To- School. We want to thank you Five Star Subaru for all the help you are giving to our community!!! Mark Woolverton, CFREChief Development Officer, GRACE
---
Subaru Loves to Care - Dee B
Dear Dee, On behalf of The Light The Night Team and the entire staff at The North Texas Chapter of The Leukemia & Lymphoma Society,thank you for bringing light to the darkness of cancer this past year. We hope you had a wonderful time with your family, friends, colleagues and team members at our event and we look forward to you joining us again next year! Thank you Subaru for caring and helping us to find a cure for blood cancers and help patients and their families. Until A Cure,Danielle Chelf | Campaign Specialist, Light The Night
---
Subaru Loves to Help - Dee B
The First Annual Veterans car show at Kraken Motorsports and Dotson Tuning was a huge success. We raised $2250 for 22KILL, a local non profit whose mission is to create a community that raises awareness and combats suicide by empowering veterans, first responders, and their families through traditional and non-traditional therapies. We could not have done it without our friend and sponsor, Five Star Subaru Grapevine. Thank you for providing the trophies and the prizes for Best of Show, 2nd, 3rd and People's Choice!! Thank you, Alicia Rizzo, Kraken Motorsports
---
Subaru Loves to Learn - Dee B
Good afternoon! My name is Matthew Vinson, the PR Officer for Carroll Senior High School Student Council. On behalf of the CHS and CSHS campuses, I wanted to reach out today to personally thank you for your Homecoming sponsorship! Over the years, Homecoming has easily become our most successful fundraiser, benefiting the high schools and our community as a whole. Our councils wouldn't have been able to afford such an event without generous businesses like yours. Thank y'all again, and I hope you have an amazing day! Best regards,Matthew VinsonPR Representative, Carroll Senior High School Student Council
---
Walk to End Alzheimer's in Grapevine - Daneen B
Dear Five Star Subaru your belief in and support of the mission of the Alzheimer's Association is helping change lives across North Central Texas. On behalf of each person we serve, I want to extend my sincere appreciation for your company's contribution of $2,000 to our 2019 Walk to End Alzheimer's in Grapevine. Your donation will bring hope to families effected by this disease while we continue the quest to find a cure.Your generous gift will allow education programs, support groups and care consultations to help serve these families. It is because of generosity like yours that we are able to provide these much needed services. It is our mission to eliminate Alzheimer's by providing care and support for all affected and reducing dementia through promoting brain health which we pursue everyday. Not only do we want to thank you for the donation we would also like to thank you for bringing Operation Kindness so that many families were able to leave with a FREE PUPPY that you paid for Saturday. Subaru loves to help and Subaru loves pets was in full spectrum on Oct. 12th. It was so nice to see the smiles you brought to many people during the walk. Thank you again for joining us on our quest to end Alzheimer's!!!!
---
Keep Grapevine Beautiful - Daneen B
GRAPEVINE, TEXAS – Keep Grapevine Beautiful is pleased to announce that Sam Pack's Five Star Subaru Grapevine will be sponsoring our Community Grants Program. Each year we provide up to $3,000 to schools or organizations for projects that focus on improving the community in one of the following areas: litter prevention, waste reduction and beautification."Subaru loves the Earth and we at Five Star Subaru are very dedicated to helping the beautification of Grapevine, Texas," says Dee Boyett, Public Relations Specialist of Five Star Subaru. Last year winners included Grapevine Faith Christian School, which was granted $2,000 for the installation of refillable water bottle fountains, Dallas Off-Road Bicycle Association, which was granted $300 toward the purchase of a new kiosk for placement at the Catfish Lane trail head of the Horseshoe Mountain Bike Trail and Grapevine High School Parent Teacher Association, which was granted $400 to be used for ongoing beautification of the Centennial Garden at the school's main entrance."This grant program helps organizations bring meaningful projects to life," says Cindy Harris, Volunteer Services Liaison of Grapevine Parks and Recreation. "These projects help improve the community in three very important areas, which is what Keep Grapevine Beautiful aims to do also."Keep Grapevine Beautiful is excited to collaborate with Sam Pack's Five Star Subaru-Grapevine on this impactful opportunity for the community. The Community Grants Program will begin accepting new applications starting Monday, September 9 through Tuesday, October 8 at 5:00 pm. Finalists will be notified on Wednesday, October 16 and will be asked to present their project to the Keep Grapevine Beautiful Advisory Board meeting on Monday, November 11. The winners will be notified no later than Sunday, November 13.To apply to Keep Grapevine Beautiful's Community Grants Program, visit KeepGrapevineBeautiful.org starting Monday,
---
Soles4Souls Wearing out Poverty - Dee B
"Some people just know how to make things happen and you are absolutely one of those people", says Buddy Teaster CEO for Souls4Soles. I did not want another day to go by without acknowledging all the hard work, time, and energy you invested in our work together. Your efforts made a real difference to people all around the world. Together as a team we were able to help kids in schools and adults at work with shoes. It is amazing to think it all starts with shoes. Without shoes kids can not attend and walk to school and adults can not work. Shoes can actually help with fighting disease in some countries they can offer hope and dignity. When partners like Soles4Souls and Five Star Subaru team up we can and will make a difference in our world it is nice to see that "Subaru Loves to Help!!' With Deepest thanks, Buddy Teaster.
---
Subaru Loves to Care with Blankets of love - Dee B
The Leukemia and Lymphoma Society of North Texas had the amazing pleasure to partner together with Five Star Subaru of Grapevine on June 26 for their Subaru Loves to Care Program. Five Star Subaru delivered 80 blankets and 10 arts and crafts kits to Radiation Oncology, while also conveying hope, warmth, and uplifting words of encouragement to those currently being treated with and battling for their lives. Each blanket came along with a personal note of hope written by the customers and staff of Five Star Subaru that the patients absolutely loved reading. The Leukemia and Lymphoma Society of North Texas is beyond appreciative for the kindness and commitment of Five Star Subaru not only for our mission but also to those in our local community. Seeing the joy on patients' faces as the blankets were personally delivered was extremely rewarding and heartwarming. We are honored to collaborate with an organization that offers back to the absolute most meriting individuals and carries light to the darkness of a cancer diagnosis.Thank you again for your participation.
---
We are the Stars - Dee B
We were nominated as one of the Top 10 nominees for the Love Promise Retailer of The Year Award in Las Vegas and Five Star Subaru Grapevine was in the 10 picked out of 633 Subaru Retailers.Tony Hooman General Manager said, "We are a team at Five Star Subaru and that is why we are honored to accept this award, we work hard everyday to live out the Subaru Love Promise!" The Subaru Love Promise Customer and Community Commitment Award recognizes Subaru retailers who demonstrate excellence in all areas of customer-focused performance. They have also exemplified our culture of making the world a better place while demonstrating an outstanding commitment to passions and causes in the community,focusing on areas like the environment, health,education and pets. Love means being more than a car company it our vision to show love and respect to all people at every interaction with Subaru. We are committed to improving the lives around us by being a positive force in the community where we live and work, not just with donations but with actions that set an example for others to follow.
---
Going Green at Five Star Subaru - Dee B
Eco-Friendly Award recognizes Subaru retailers who complete comprehensive program to minimize environmental impact in DFW. Subaru of America, Inc. (SOA) today presented Subaru of Grapevine with the Subaru Eco-Friendly Retailer Award. This award is given to Subaru retailers who complete a voluntary environmental program designed to make a positive impact on their community and local environment. To complete the comprehensive certification process, Subaru retailers must meet the requirements of a point-based inspection in five areas of conservation: energy efficiency, water conservation, recycling,waste management, and community involvement. Five Star Subaru optimized their facility's energy efficiency by installing all new LED lighting in the entire facility and programmable thermostats. To reduce water consumption, the facility was upgraded with re-cycled water for the car wash, as well as water efficient landscaping. By recycling material such as paper,metal, cardboard and plastic, waste is diverted from landfills. Their facility continues to ensure proper disposal of other waste material such as oil, coolant, batteries and tires, and Subaru of Grapevines employees are actively involved in community programs focused on preserving and protecting the environment. When you visit the cafe area designed for guests to enjoy on their visits you can observe the terra-cycle boxes reserved for re-cycling.
---
Subaru Rally Car Event - Daneen B
This year we hosted the Subaru Rally Car at Five Star Subaru. The rally car and Subaru enthusiast got to have their very own opportunity to sit in a official rally car and get there picture professionally taken. They had the thrills of winning all kinds of "Subaru Gear" and getting to speak to experts of all kinds about their new Subaru's with official Subaru technicians.We provided free So-Cal tacos all weekend for attendees and even complimentary Kona Shaved Ice, it was hard to choice what flavor to enjoy.Another event was featured here at Subaru of Grapevine for our future technicians.UTI Universal Technical Institute and Five Star Subaru aligned to provide insight on future students from UTI so they could see up close and personal as to what they can expect as a career in the automotive industry.Marcus Procter service manager had Damon English senior master tech at the dealership teach the class, " All students asked great questions and were very interested in a career with Five Star Subaru', quotes Damon. All in all it was a very fun weekend and brought a lot of smiles and community to our dealership. It is events like this that make "Subi" owners feel a sense of Love and relationship.
---
Second Annual Duck Race - Dee B
Grapevine Rotary Duck Race 2019 On Thursday, April 4th, 2,500 rubber ducks raced the lazy river of the Grapevine REC for prizes. There were plucked ducks, a lame duck and 1st, 2nd and 3rd Place winners. The Grapevine Rotary Duck Race raises money to support many projects that are important to our community. This includes providing scholarships to area high school seniors, feed our kids and computers for kids programs, placing flags on Main Street to honor our country, Canines for Companions and many other service projects Rotary does for our community and for the world. "Service above Self" is the mission of Rotary and the Duck Race is a great example of young and old coming together to have fun and to support all the great causes. This year, at the 2nd Annual Grapevine Rotary Duck Race we raised in excess of $25,000. We are grateful to Sam Pack Five Star Subaru of Grapevine and their financial support for Grapevine Rotary. This year at the Duck Race Five Star Subaru gave guests a chance to win a brand new Subaru!!! It is projects like these and many more that unite Subaru and Rotary together to help others in our community and throughout the world.
---